Regular price
$100.00 USD
Regular price
Sale price
$100.00 USD
Unit price
per
Sale
Sold out
IGNORE PRICE SHOWN HERE - ACTUAL PRICE IS DETERMINED ONCE WE KNOW WHAT YOU WANT
The Sheep Dreamzzz knitters have made e a number of custom baby blankets (variations on our basic design). Some are shown below, and we are happy to discuss whatever variations may be of interest to you (size, design, colors).
There are a few challenges, so once you understand these feel free to contact us about custom work.
There is no "economy of scale" for

larger

 hand-knit blankets. A blanket that's twice the size requires twice the yarn and labor and is in fact much more difficult to make than two smaller blankets (there's a reason large blankets are either cut from a fabric roll or made in pieces and then sewn together as in crochet and quilting). That said, we've knitted a number of 2x-size blankets, that is 36-37 inches square, and you could expect to pay just over 2x (we have to add a bit for shipping but if you send a check we can remove the credit card fee). We'll work with you as best we can but in the end a knitter has to want the extra work of making a large blanket (vs. here normal weekly 25x25 blanket). Offering an additional bonus always helps.
If we need to purchase yarn that we don't already have or that is sourced outside of our normal yarn suppliers, it may cost more and we have to pass that extra cost on to you.
Unless you choose a yarn and color that we already have in Nicaragua, we have ship it there and bring back your blanket on a future trip (there's no way to ship from Nicaragua to the US at a reasonable cost). So turnaround times are heavily dependent on our travel, although we may be able to knit the entire blanket during a trip. Not sure when that will be but in all likelihood during July 2023.
All that said, we really enjoy custom work! So here are some examples of what we've done.​​
Customization Options
Here's a concise list of customizations we've done or can think of:
Larger Blanket
Other Color
Multiple Colors, i.e. blanket body vs. edge
Satin Border (blanket binding) added after knitting
Embroidery - name, birth date, etc.
Team Logo
Different Color Sheep - white, cream, gray, pink, blue, yellow, etc. It coul even be a mix of colors or one black sheep!
We will consider any request and give you an honest answer about what it will take to accomplish and when you would receive it. And even though it might be a little complicated, rest assured that your blanket will help a woman in need just as much as one that has already been made.
View full details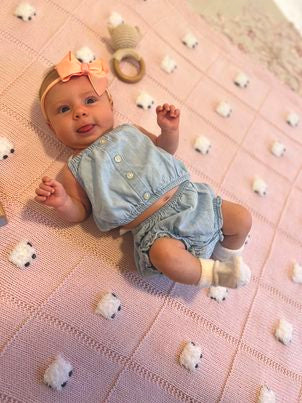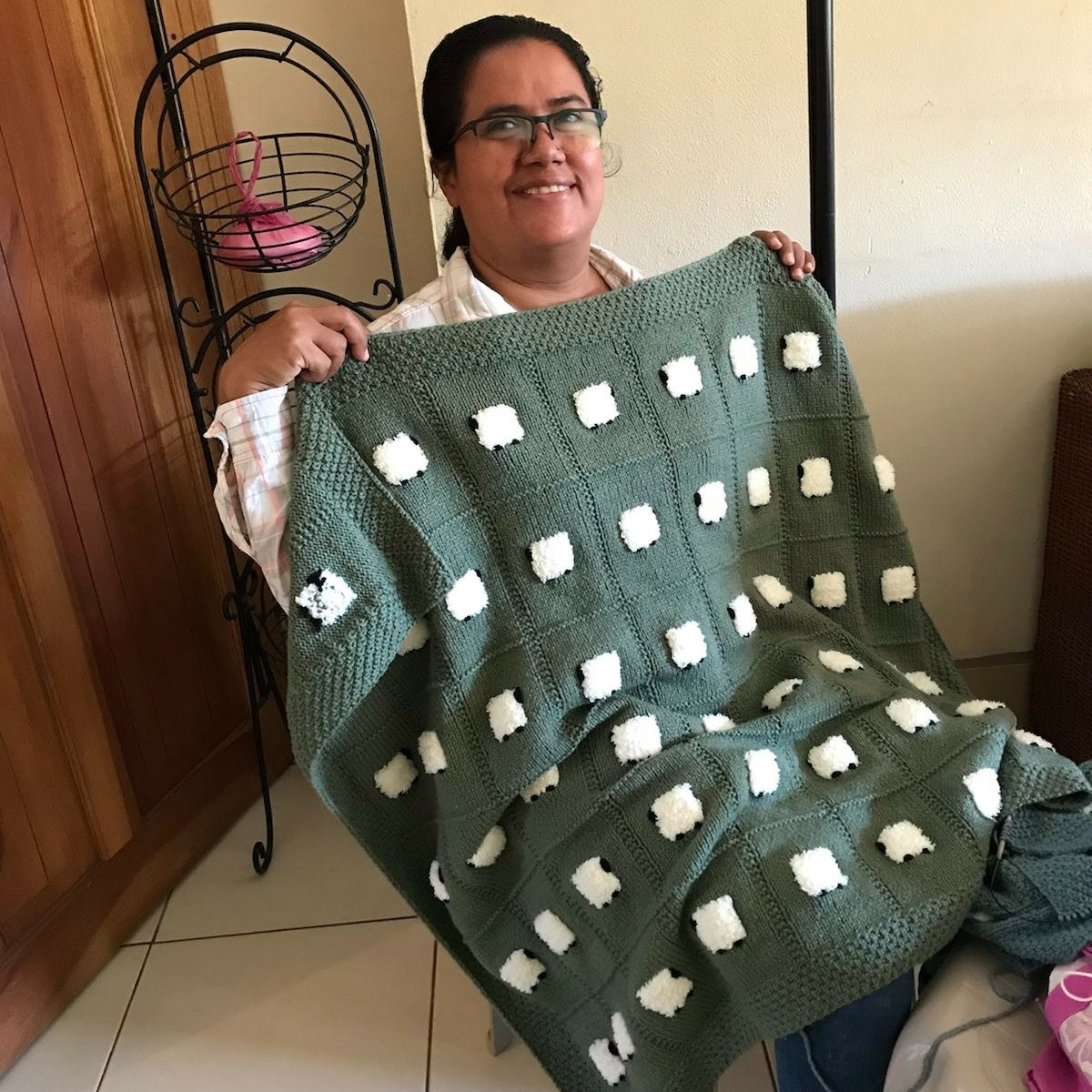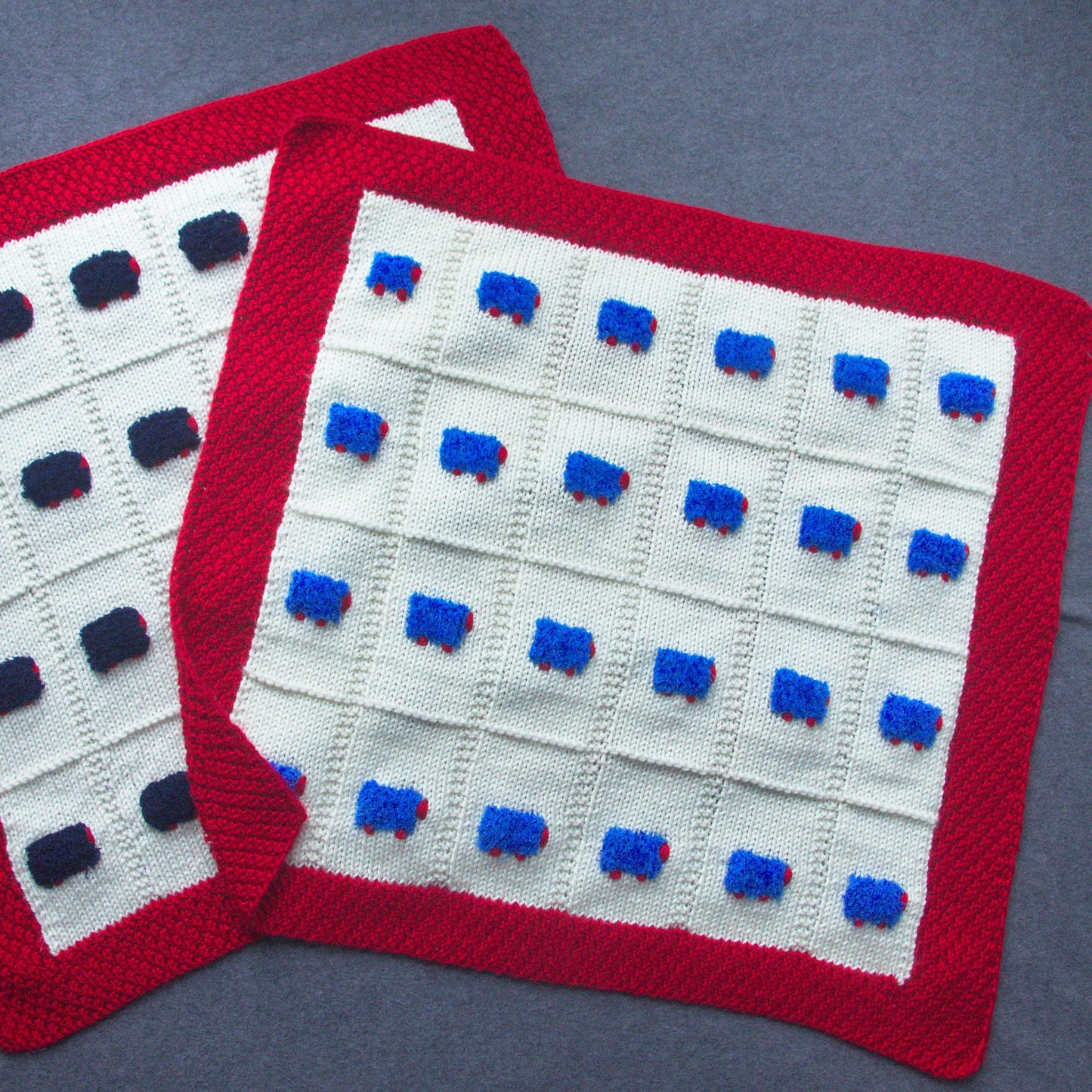 Beautiful and so special!
The blanket turned out so beautifully and made for such a special and meaningful gift for my best friend who just welcomed a new baby girl. Sandy was so wonderful to work with too. Highly recommend!!
All around wonderful experience!
Hi! I have had soooo much fun buying this blanket!!! The whole process has been a pleasure from start to finish! I was able to easily customize my blanket to a bigger size with much communication with Steve and Sandy. They have been a joy to work with. Prompt in responses, communicating with me all through (with Covid there were delays etc.), very personable and very accommodating to my own personal needs in my order! They even sent me pictures of our blanket with the lovely woman who was knitting it for us!!! She did an amazing job! We absolutely LOVE the blanket!!! Its perfect and the color is perfect and the little sheep are so cute and soft, I couldnt stop touching them! Haha! We bought this for our 1st granddaughter who isnt born yet, so we havent given the blanket to our son and daughter in law, but are sure they will LOVE it too! We are probably going to make this a family tradition for each new grand baby!!! Thank you Steve, Sandy and Cruz! ?
We enjoyed making the blanket, Andrea. We know it took a while but we also were thrilled with how it came out!
Our blanket is spectacular! Wonderful quality and the colors are just what we hoped! We ordered a custom-made one with colors of my husbands favorite Pro Football team. We bought this with the intention of it becoming a family heirloom and there is no doubt it will last a long time! The communication was great when ordering and during the time it was being made. We are so glad to support the women and their families. 100% recommend purchasing one for family, friends or for gifts.
All Custom Baby Blanket Reviews
Share information about your brand with your customers. Describe a product, make announcements, or welcome customers to your store.